Tan A Dai Thanh produces super durable plastic pipes in cooperation with Germans
16 August, 2021
Referring to Germany, consumers all over the world acknowledge that "made in Germany" as the symbol of prestige and top quality.
According to the Made in Country Index 2019 report, published by the market research firm Statista, in the ranking of products trust in quality by countries, German-made products hold the first position. For many years in a row, this ranking always named the Germans. Therefore, Germans are always proud of products with high durability and long shelf life up to decades, even hundreds of year thanks to the advanced techniques, technology and workmanship.
Referring to automobile, it is impossible to ignore BMW, Audi, Mercedes; When it comes to home appliances, Braun, Fissler are the ones come up in mind..; But only a few people know that Germany iss also the leader in Europe and the world in the production of plastic pipes and fittings. Despite the impact of the economic crisis in the period of 2001-2005, according to the report of AMI (the leading provider of global plastic market information), Germany is still the largest plastic pipe manufacturer in Europe, account for 20% of total production in 2014, surpass other major manufacturers such as Italy, Spain, France, and Great Britain.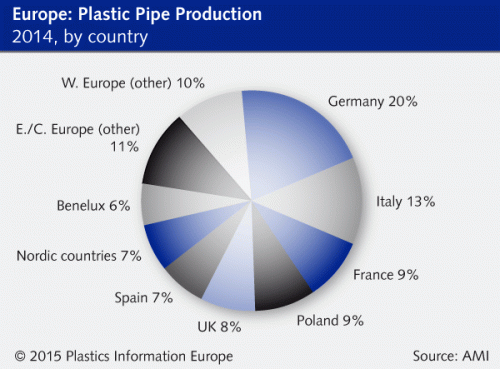 The chart of plastic pipe production of European countries in 2014
Made in Germany plastic pipes are always associated with quality, high technology and durability. For example, the first large-scale installation of uPVC pipes for drinking water supply and sewage pipes took place in 1936, distributed by a German enterprise. From 1936 to 1939, when the world was unfamiliar with the concept of plastic water pipes, more than 400 residential areas were installed water systems for drinking water and wastewater through uPVC pipes in central German provinces such as Leipzig, Dresden, Magdeburg, Berlin, Hamburg, Cologne… After 84 years, apart from the partial damage caused by World War II, most of the remaining pipelines are still in use and operating stably at the moment. Many in-depth reports from Europe have shown that uPVC pipes made in Germany can last at least 100 years without bursting in normal environments.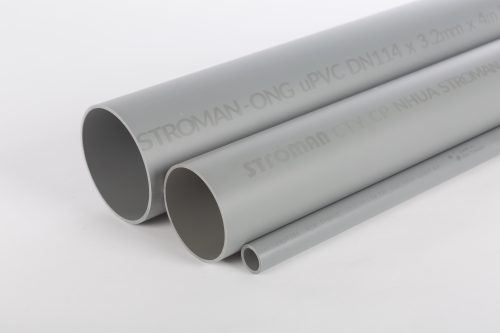 Ströman uPVC pipes have a lifespan of up to 50 years
Cooperating, transferring technology and techniques from the Germans, Tan A Dai Thanh Group has launched Ströman premium plastic pipes with the goal of conquering the domestic market with top quality products.
Transferred machinery, technology, operation and control system from German experts, Ströman plastic pipes integrate the most valuable features ​​of the plastic industry in the world into its products. The two Ströman plastic pipe factories in Hung Yen and Long An are synchronously and modernly invested, from infrastructure to machinery and equipment in accordance with German standards, with a total investment up to more than 140 million USD. Produced on the extruder lines of the No. 1 corporations in the plastic industry in Germany and the world such as Krauss Maffei, Battenfeld Cincinnati; automatic feeding system of Zeppelin corporation; SICA Group's automatic expansion system, Ströman plastic pipe ensures high accuracy, homogeneity of material and stable productivity, especially saving energy and friendly with the environment.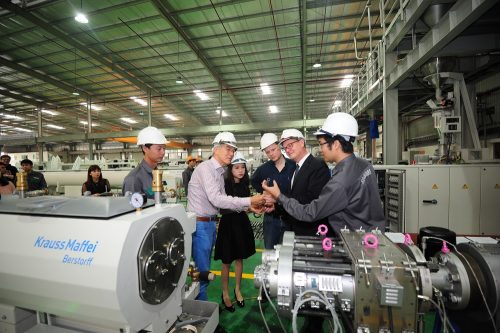 Ströman plastic pipe factory is invested in a synchronous system of lines and machinery in accordance with German standards
In addition, in order to ensure stable quality, Ströman has also built and maintained a strict and rigorous quality management system, ensuring that all products complied to German standards: DIN 8077:2008-09, DIN 8075:2011-12… The standard clearly states about food safety and hygiene, standard specified dimensions, permissible working pressure, and the material designations that create the pipes. This is the affirmation of the durability and safety of Ströman plastic pipes.
Not only affirming the durability and longevity of plastic pipes, Ströman also puts human health at first. Ströman plastic pipes are manufactured from virgin plastic, completely imported from leading corporations in the world such as Borouge, SCG, AGC Group, Hyosung, Sabic… The purity of virgin plastic is often compared to 9999 gold with high elasticity, resistant to bending, warping and high pressure, specialized for the production of medical and aviation equipment… Therefore, Ströman plastic pipes are not only durable but also absolutely safe for health.
Operated and controlled strictly by German experts, applying German technology, ensuring German standards, Ströman plastic pipes and fittings have completely convinced the most demanding customers. It is worth being a strategic product that completes the total water solution that Tan A Dai Thanh Group is pursuing.