Launching iPaint Saphir – applied breakthrough Sapphire technology into paint
18/09/2017
Tan A Dai Thanh Group has just launched the premium interior and exterior iPaint Saphir paint, the most innovative, advanced and modern Sapphire technology in the paint industry today.
Applying advanced and modern technology in paint production is one of the strategies of Tan A Dai Thanh Group to maintain the difference in the competitive market and provide customers with the best solutions and products. The new launching iPaint Saphir is the result of successful research by Tan A Dai Thanh Product Development and Research Department to continue providing premium interior and exterior paint solutions to help protect and beautify millions of building in Vietnam. iPaint Sapphire applies the advanced world's leading Sapphire coating technology, which fully meets the needs of coating for different surfaces, especially tropicalized to match the weather conditions, the hot and humid climate of Vietnam.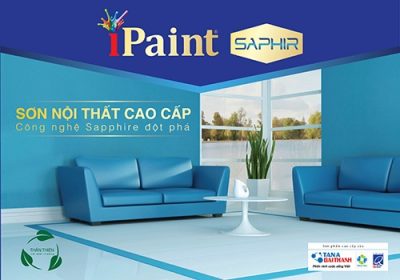 Applying Nano technology and developing outstanding advantages of Nano Silicone, Nano Silver, and Nano Acrylic molecules helps iPaint Saphir to increase its waterproofing ability compared to other paints of the same type on the market. Nano particles are super small in size, which help to enhance coverage, gloss level, and sealability, making it difficult for oil, water, and dust to adhere to the paint film, ensuring that the paint film is impermeable. As a result, the surface using iPaint Saphir is resistant to dirt and extremely cleanable. In addition, the ultra-small size of silver Nano particles helps to increase the antibacterial ability of the paint to 99.99% to protect human health.
iPaint Saphir is developed on a sustainable basis based on key strengths including: Quality materials, diverse colors and high usability. iPaint Saphir uses high-quality imported materials that comply ISO 9001 – 2008 standards, which are friendly to the environment, along with a synchronized machines and systems imported directly from the Federal Republic of Germany, and completely self-manufacturing. Fully automated from closed data entry to packaging. In particular, the automatic color mixing system, located at color mixing centers in provinces and cities across the country, gives customers an accurate and rich choices of color.
With the strategy of constantly developing product quality to better serve the needs of the market, along with the orientation for a green development, iPaint Saphir always puts safety and eco-friendly criteria on the top. Paint is not only a coating on the outside of the wall surface, but also protects users inside the house, helping consumers to have a green living environment, providing optimal protection against harsh conditions, keeping the surface of the works beautiful.
For further information, call our Hotline (toll-free) at 1800 6668 or visit our website https://www.tanaonline.vn/son-ipaint