Tan A Dai Thanh launches 4 new iPaint series
24/10/2019
The launching event of premium Ipaint emulsion lines was held on the morning of October 22th, 2019 in Ha Nam, with the participation of more than 300 guests including color experts, architects, partners, dealers and agents…
With 4 new emulsion series: Super clean interior cleaning paint I7; Odorless interior antibacterial paint I8; interior porcelain enamel paint I10 and ETM color waterproof paint… iPaint will add more choices for consumers across the country, through the distributor system of over 30,000 points of sale of Tan A Dai Thanh Group.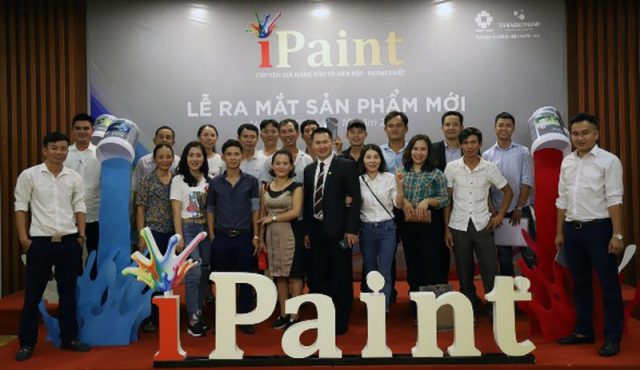 Sharing at the launching ceremony, Mr. Nguyen Tien Luyen – Deputy Sales Director of Tan A Dai Thanh Group said: "Through investing and applying world-leading technologies in the manufacturing process, over the years, Tan A Dai Thanh Group has developed quality painting product lines such as lead-free, mercury-free paints, paints with high anti-alkali properties, good adhesion, smooth surface finish, the ability to increase the color retention level of the coating, effectively resist mildew, anti-carbonization.
"With many years of experience as an iPaint distributor, I personally have received numerous good feedback from consumers, highly appreciate the color and quality of iPaint. I would like to congratulate Tan A Dai Thanh Group for constantly improving their quality in order to produce the best products for consumers. I believe that, with good quality and very competitive pricing, iPaint will increasingly assert its position in the market," said Mr. Nguyen Viet Chung, an iPaint paint distributor in Bac Giang.
Determining production capacity as a decisive factor for product quality and competitiveness, since establishing the iPaint factory in 2017 (in Yen My district, Hung Yen province), Tan A Dai Group Thanh has synchronously imported the production system from Germany. Tan A Dai Thanh has establish a closed-loop production process, managed comply to ISO 9001:2015 standard, and is directly supervised by foreign experts.
Currently, Tan A Dai Thanh Group is investing and building an iPaint European standard factory (located in Thanh Liem Industrial Park, Ha Nam province) with a capacity of 30 million liters per year in its first phase, sufficient the demand for domestic use and exporting.
The iPaint European standard Factory is expected to operate at the end of 2019.
—————————————————-
Attending the launching ceremony of iPaint, many of Tan A Dai Thanh's partners participated in the program of Prospering Vietnam life. Accordingly, with a registered revenue of up to 3 billion VND, the distributor (or agent) of iPaint will be given 01 Hyundai Grand i10 1.0L – 5MT car worth 335 million VND along with 60 boxes of 18L EMT.
In addition, 01 SH mode ABS, 01 Air Blade, 01 Wave RSX were also given to distributors and dealers who register a lower revenue.